Ultimate Security Encryption SC4™
Need a simple but strong freeware encryption utility? Ultimate Security Encryption SC4™ (USE-SC4) uses a strong encryption Stream Cipher based on the RC4 algorithm. It utilizes a 256-byte key with byte-oriented operations. Default hashing functions employ SHA, and the program can also be configured for MD5 hashes. Advanced salt(IV) and algorithm priming implementations protect against repeated passwords and 'weak key' vunerabilities. The cipher code has been optimized and will run very quickly on most hardware. The RC4 algorithm has been scrutinized by independent analysts and is considered secure. USE-SC4 also detects file tampering and warns accordingly.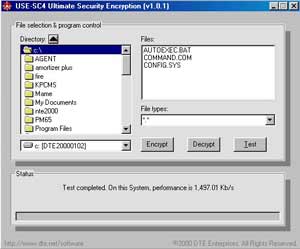 Features
Secure & reliable encryption.

Easy to use.

Detects file tampering.

Fast algorithm (1.5Mb/Sec on Celeron™ 333Mhz w/64Mb RAM).

Encrypt & decrypt multiple files in one operation.

Performance speed test
System Requirements and Notes



USE-SC4™ is a 32-bit program which works with Windows95™, Windows98™, or WindowsNT™ & 2000/2003. Program should also work with Server 2008 and Vista. For good performance we suggest a Pentium® -class processor or better with 32mb of RAM or more. Minimum requirements are actually substantially lower, but performance may suffer. Click here for the readme file, which contains detailed minimum system requirements.
Downloading USE-SC4™
Current Version is 1.1.1
Full Install

use-sc4-111.exe (2.13Mb)

Comments and questions are welcome regarding this program. Please write to software@dte.net and let us know what you think. Suggestions for improvements are also seriously considered and appreciated.
Copyright Notices:
Windows,Windows95, Windows98, WindowsNT, and Windows2000/2003/2008 and Vista are registered trademarks and/or the property of Microsoft corporation. All rights reserved.
Pentium & Celeron are registered trademarks of the Intel Corporation. All rights reserved.
RC4 is a registered mark of RSA Security. All rights reserved.
Ultimate Security Encryption USE-SC4 is a trademark of Down To Earth Enterprises. All rights reserved.