Fonts-FAST™
Fonts-FAST™ is a simple freeware utility to help users easily determine which fonts to use in their projects and documents. Although this program has been around for years and is virtually a legacy program, we still use it ourselves to quickly search available fonts and determine the most suitable font for our intended purpose. The program can also generate a printed list of fonts and samples for your reference.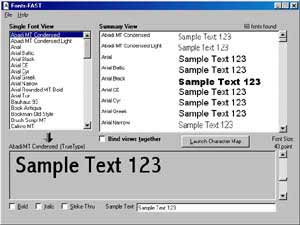 System Requirements and Notes



Fonts-FAST™ is a 32-bit program which works with Windows95™, Windows98™, or WindowsNT™ & 2000/2003. It should work with newer operating systems such as Server 2008 and Vista. For best performance we suggest a Pentium® -class processor or better with 32mb of RAM or more. Minimum requirements are actually substantially lower, but performance may suffer.
Downloading Fonts-FAST™
Current Version is 1.1.3
Full Install

fonts-fast.exe (1.84mb)


Comments and questions are welcome regarding this program. Please write to software@dte.net and let us know what you think. Suggestions for improvements are also seriously considered and appreciated.
Copyright Notices:
Windows,Windows95, Windows98, WindowsNT, and Windows2000/2008 and Vista are registered trademarks and/or the property of Microsoft corporation. All rights reserved.
Pentium is a registered trademark of the Intel Corporation. All rights reserved.
Fonts-FAST is a trademark of Down To Earth Enterprises. All rights reserved.